*Updated 8.25.20
Here at Anvil, we find that marketing analytics often requires more than just Google Ads, Facebook, and other digital marketing sources to make sense of your business. You also need to see how your marketing efforts are impacting your business's internal operations.
We work in Teamwork every day. It is our project management tool where we track all of our tasks. It is also our time management system, so we can understand how our time is being allocated. Plus, we use Teamwork to manage our Help Desk for both web hosting support and also products like our custom marketing Attribution Model (also connected to Data Studio).
We started pulling Teamwork data into our business intelligence tools for ourselves, but we ran into a few concerns. First, if we stored the data in our data warehouse, it would quickly get out of date. We also found that if we wanted to store the data in "real-time" we would need to have a very robust setup that would require ongoing support. 
What we decided to do was much simpler—create a Data Studio connector that pulls the data directly from Teamwork every time you view a report in Data Studio. Although we no longer had the quick loading speed of a direct connection to Google BigQuery, it has proven to be the best all-around solution
In addition to helping our own company, we also love that a Data Studio connector can be used by anyone, so we decided to make the connector public. 
Not only have we chosen to share the connector, but we also decided to partner with the great folks at Teamwork to build the connector. You don't need to create an account with Anvil Analytics + Insights, and we made it 100% free to use.  
How to Use Teamwork for Data Studio
You will need to have two items before you get started:
Teamwork User Login

Teamwork Site Hostname
Teamwork User Login
You will need to be able to log into a Teamwork user account. When you first authorize your Data Studio connection, you can use a different Google account, but the second step requires you to have a Teamwork user login. 
Note, the Teamwork user should be a standard user for Teamwork and be able to access all of your organization's project data. If you are a member that does not have access to every project, the API will only be able to access the data available to that specific user.
Teamwork Site Hostname
Your teamwork site hostname is needed for the Data Studio connector to find your data. This is easy to find, as it should be in the URL when you visit Teamwork. It would look like yoursite.teamwork.com.
If you worked at Facebook, it would likely be facebook.teamwork.com
Data Studio Connector
Once you have your user login and site hostname, go to the Teamwork connector here. You can also search for the connector once it is fully accessible in the Data Studio connector store.
To get started, you need to click the Authorize button on the connector page.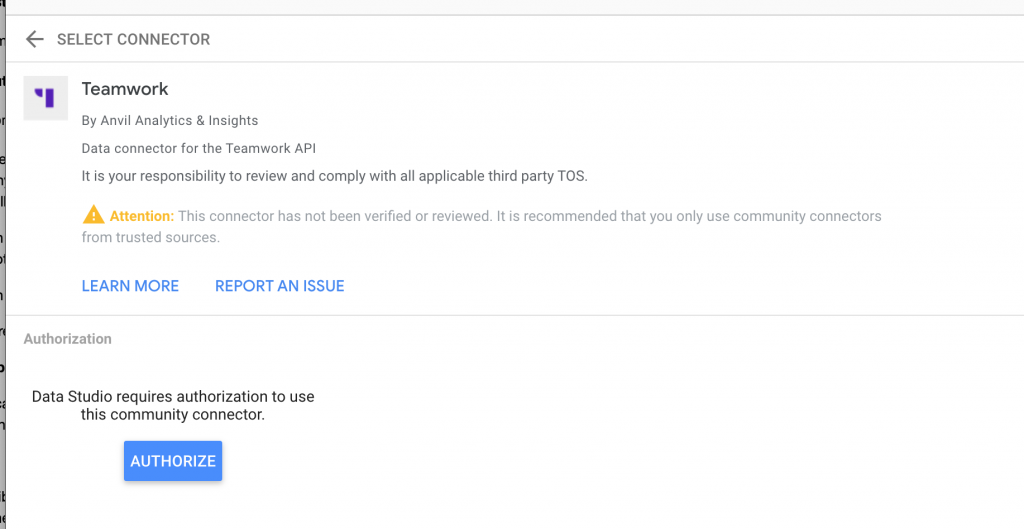 Once you have allowed the connector to connect to your Google account, you will add in your Teamwork user. The good news is that you only need to authorize and add in your user this one time. The next time you create a new data connection to Teamwork in your account, you will not be asked to complete these first two steps. 
Now that you have entered your account, you will be shown the report connection options. Here you will first enter your Teamwork site hostname, and then you will select the reporting interface you need for this data source. 
The two options are Time Entries and Projects. 
Time Entries is a very robust connection where the rows in the data are single time entries. This is most likely the primary connection you will want to use to see how many hours are tracked to a project or task, who is tracking these hours, and when. 
Projects is a data connection that does not focus on hours but does give detailed information on each project. The rows in this dataset are the individual projects and can give you information on the status and setting of the project.  
Once you choose the connection type you want, click the blue CONNECT button in the top right corner of the page.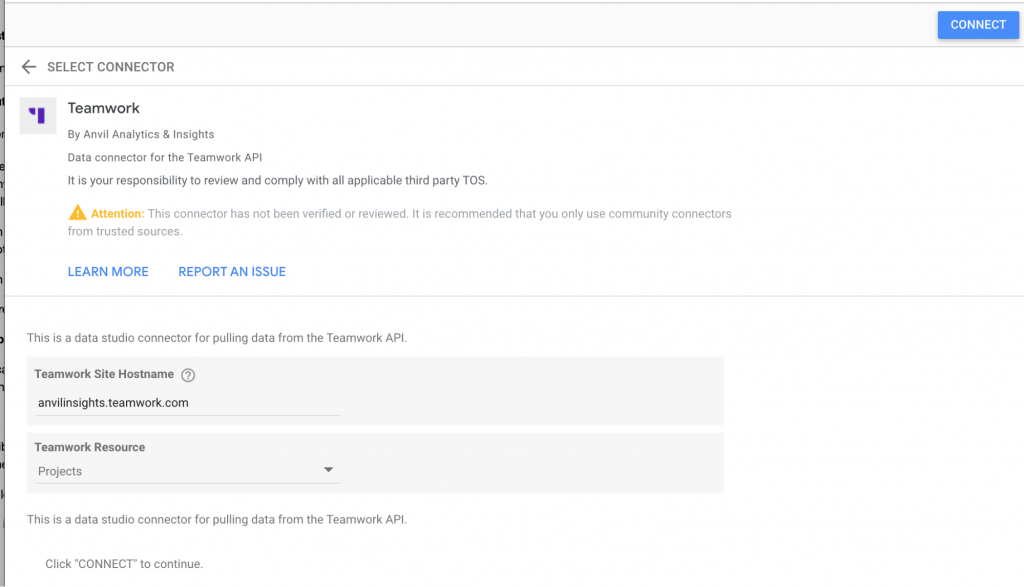 Now you have your data connection set up in Data Studio, and you can use this in any Data Studio report you like! If changes are made in Teamwork, just refresh the connection. 
Because this is a live connection, all of the data is pulled fresh every time. If you are pulling data for a longer time period, it will slow down the time it takes for Data Studio to pull all of the data into your report. 
If you need any customization for the connector or to create custom reports for your organization, we would be happy to help. Please contact us here, and we will get back to you with the level of effort and cost for your customization. 
Support
If you have any issues or concerns about the Teamwork Data Studio connector, you can contact our support team via support@anvilinsights.com or use our contact form. We will create a Help Desk ticket for your issue. 
Terms of Service
BY USING THE SERVICE, CUSTOMER AGREES THAT CUSTOMER HAS READ AND UNDERSTOOD, AND AS A CONDITION TO CUSTOMER'S USE OF THE SERVICE, CUSTOMER AGREES TO BE BOUND BY THESE GENERAL TERMS AND CONDITIONS ("GENERAL TERMS"). THE PERSON WHO ENTERS INTO THE ORDER ON CUSTOMER'S BEHALF REPRESENTS THAT SUCH PERSON HAS THE AUTHORITY TO AND DOES BIND CUSTOMER TO THESE GENERAL TERMS. For good and valuable consideration, the receipt and sufficiency of which is hereby acknowledged, Anvil Analytics + Insights and Customer agree as follows:
1 Provision of the Service. Anvil Analytics + Insights shall make the Service available to Customer in accordance with the Order and during the term and hereby grants to Customer a non-exclusive, non-transferable, non-sublicensable right to remotely access and use the Service solely for Customer's own internal business purposes as permitted by and subject to the terms of the Agreement and the Documentation. Any charges from a Data Source owner shall be the responsibility of the Customer.
2 Restrictions. Customer may not: (i) sublicense, license, sell, lease, rent or otherwise make the Service available to a third party; (ii) circumvent or disclose the user authentication or security of the Service or any host, network, or account related thereto; (iii) share non-public Service features or content with any third party; (iv) copy any ideas, features, functions or graphics of the Service or translate, disassemble, decompile, reverse-engineer or otherwise modify any parts of the Service; (v) infringe the intellectual property rights of any entity or person; (vi) access the Service in order to build a competitive product or service, to build a product using similar ideas, features, functions or graphics of the Service, or to copy any ideas, features, functions or graphics of the Service; or (ix) use the Service in a way that does not comply with applicable law.
3 Change or modification of the Service. Anvil Analytics + Insights may change, modify, or end the Service at any time as long as it remains free to use.  
4 Information Security. Anvil Analytics + Insights undertakes to use good industry practices for information security (such as password protection, encryption, and firewall protection, logging and monitoring) when providing the Service. 
Privacy Policy
Click here to view our privacy policy.