When we make strategic recommendations to improve the PPC campaigns of our clients, they tend to listen.  After all, as PPC Specialists, we're the experts.  However, when we suggest that they begin bidding on their own brand's search terms, we often hear one of the following objections:
"I already rank #1 on Google in organic search for my brand.  Why should I pay for clicks if I can get them for free?"

"Won't customers who already know by brand go directly to my site instead of searching for it?
These are good questions to ask, especially for enterprise-level brands.  But there's actually a TON of value in bidding on your own branded terms. That's why we almost always recommend this tactic to our clients.  Here are the five biggest reasons why:
Branded search queries are usually pretty cheap. 
The cost objection is one we hear a lot.  And believe me, we get it. But, in general, branded search queries tend to be very cost-effective.  We've seen CPC's as low as $0.10 depending on the industry.  Because clicks are so affordable and these users are often in the lower stages of the marketing funnel, the benefits of bidding on branded terms tend to outweigh the costs.
Branded Search Ads + Branded Organic Search Listing = More SERP Real Estate.
Question: when looking at the images below, which SERP looks more appealing, Picture A or Picture B?  Of course it's Picture B! Combining the power of branded search ads along with your organic search listing and Google My Business profile, you can absolutely dominate SERPs with loads of essential information about your brand.  Just like when a customer walks into your store, you should make every effort to wow them. Use branded search ads to maximize your visibility on SERPs when a potential customer searches for your brand.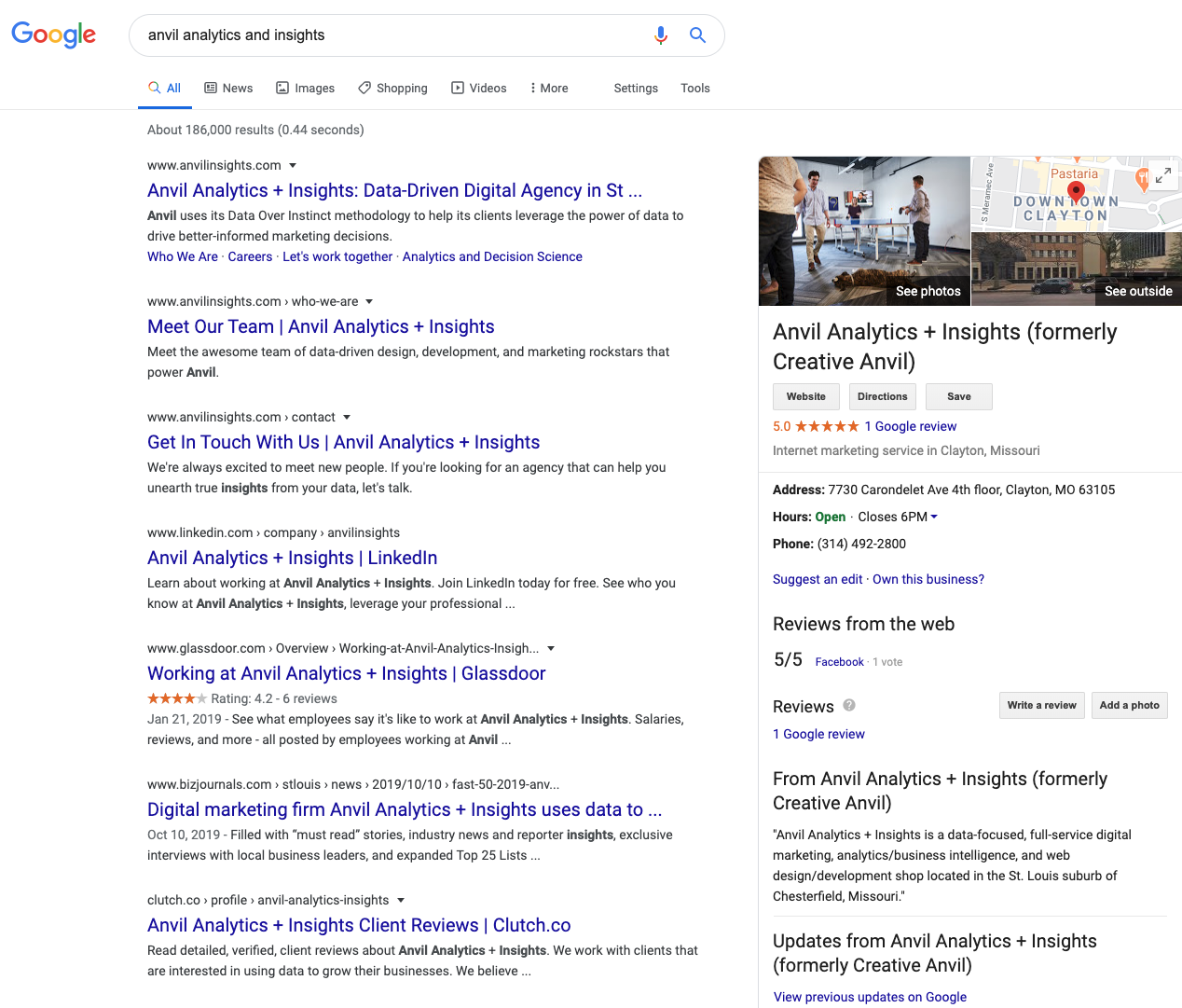 Picture A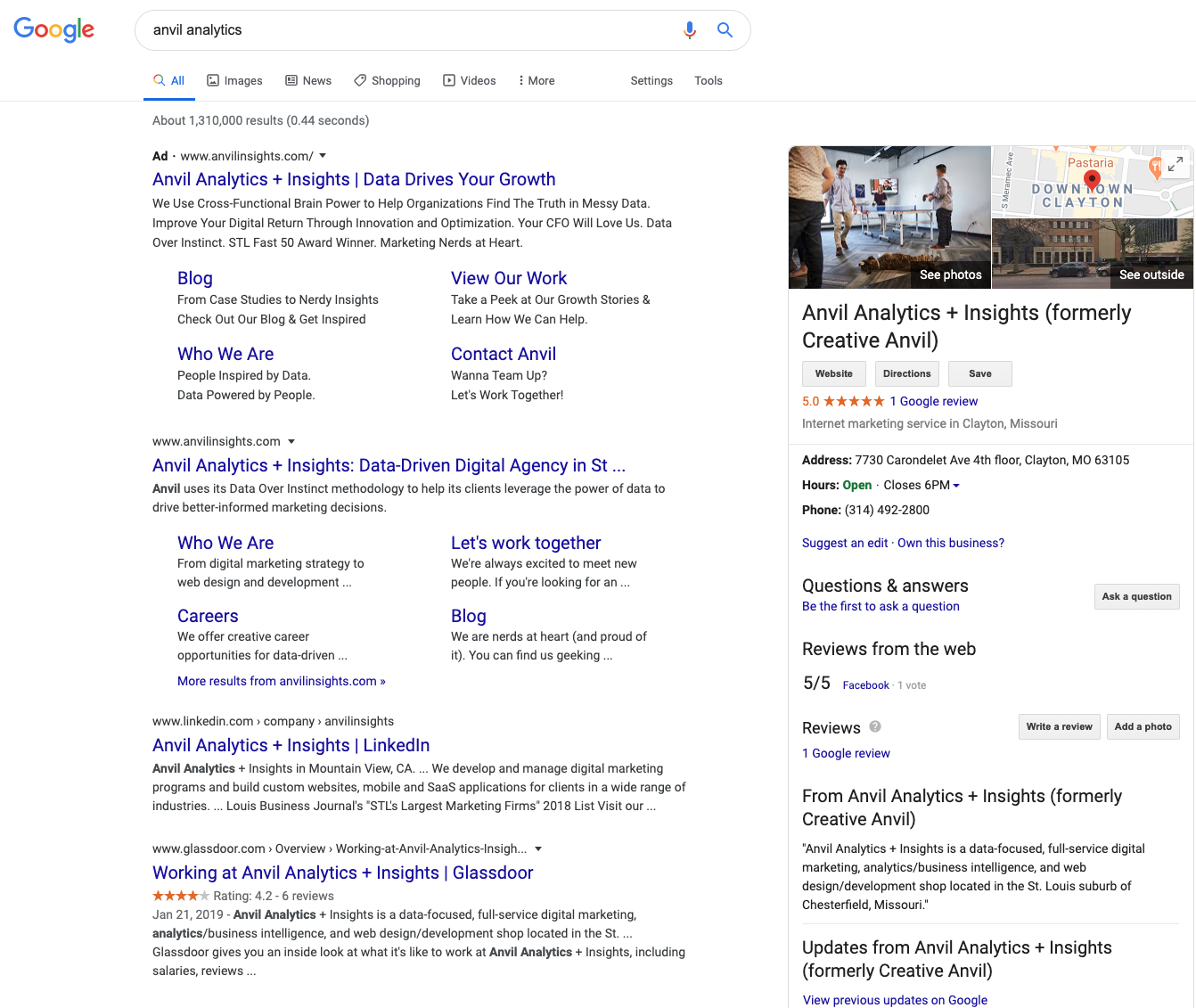 Picture B
More SERP Real Estate = More messaging opportunities to showcase your brand.
When it comes to organic listings, you're primarily limited to your title, snippet and sitelinks to display relevant information about your brand, unless you're able to serve rich results on your branded terms.  With branded search ads, you can leverage the power of ad extensions to serve valuable brand differentiators not available through organic listings. Structured snippet extensions allow you to promote product or service offerings while callout extensions enable you to promote unique offers or key product or service differentiators related to your brand.  In addition, you can change these at any time, giving you more control over what messaging appears vs. traditional organic listings.
You can use branded search ads to fend off your competitors.
There are still many business owners who aren't aware that advertisers are allowed to bid on competitors' branded search terms on Google SERPs.  It's very harmful to your brand when a competitor's is listed as the top result for your branded search term. You'd be surprised how often we've seen our clients bidding on their competitors' branded terms steal their traffic AND capture that user as a lead as well.  Even if a competitor isn't currently bidding on your branded queries, they can start doing so at any moment. So it's definitely in a brand's best interest to be proactive and defend their brand in search results.
You can A/B test different landing pages to improve conversion rates.
Your branded organic search listing is typically going to default to your homepage.  Depending on your site design, a homepage will often give users lots of optional user paths.  Even If you have a clear call-to-action on your homepage, you still risk the user getting diverted from their original goal of converting.  With a branded search campaign, you can test driving users to a custom landing page, void of distractions and with a clear objective of generating a lead or sale.
From bidding on clicks at a bargain price and maximizing your visibility in search results, to defending your brand from competitors and testing ways to secure more leads, bidding on your branded terms looks like a clear win, right?