We believe that data-driven decision-making should be integrated across all aspects of what we offer, from design to development to marketing. This is why we've worked hard to create a framework for how we handle our projects, a framework that is flexible enough to fit each project but rigid enough that we can consistently maintain our high level of quality.
You can count on us to develop solutions that are based on structured and empirical evidence, AND we'll empower you with transparent rules that will guide you to effective decision-making.
Stop me if this sounds familiar. Your organization works hard to create reports and dashboards, but you always feel like you are missing that next step. All over the place, you hear about companies using data-driven strategies to make a gazillion dollars. You hear the industry buzz about data science, predictive analytics, and conversion optimization. But you aren't even sure if the data in your reports is accurate (you are almost certain it isn't).
We know these problems all too well, and that is why we have built our agency around data and analytics. We know that working with data is hard, we know a lot of companies are struggling with the basics, but we can lead you to digital maturity because we know how to get there.
We will first make sure your digital analytics house is in order by ensuring your foundational data is working at optimal levels. From there we can do advanced analysis using diagnostic and predictive statistics, as well as automate data analysis to better power decision-making.
If you want to leverage marketing analytics as a competitive advantage, you need to mature your organization's analytics capabilities. Marketing analytics maturity truly is a marathon – not a sprint, and if you're smart, you'll hire an experienced coach to guide you to victory.
Want to get a hint of where you are from a marketing analytics maturity perspective? Check your pulse in this chart: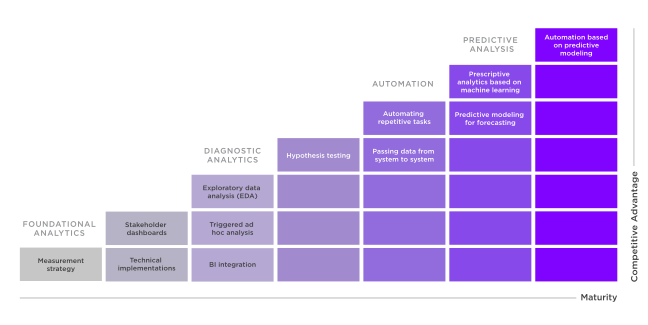 Many of the clients we work with are still in the foundational analytics "measurement strategy" phase. They have probably been collecting data for a while but are struggling to figure out what to do with everything they've collected. If that's you, get in touch.
There are more than 5,000 different platforms in the marketing technology space, and that number doesn't even include all of the other technology we have to touch to extract and store data.
It would be impossible for us to be experts on all of these, so we focus on a select group of key platforms. That being said, we will leverage other software on a case-by-case basis when the alternative tool will provide more value to the client.
Above everything else, we pride ourselves at being among the very best at leveraging the Google Marketing Platform.
In the Decision Science team, we work hard to have a deep understanding of Google Analytics and Google Tag Manager. Plus, we have a dedicated team of Google Ads experts that we collaborate with on a regular basis.
We work every day in Google Analytics and Google Tag Manager and leverage such features as:
Custom dimensions, metrics, and calculations to help clients connect third-party data to Google Analytics and create custom reports and custom tables (for Google Analytics 360 only) that can help our clients get the information they need to make decisions
Advanced filtering and views so data is processed to match exactly what matters to stakeholders, as well as to remove unnecessary data and clean up messy data
Custom events and goals to collect key activities for our clients' digital properties
Leveraging APIs to pull data out of Google Analytics into our business intelligence tools, such as the Multi-Channel Funnels Reporting API that allows us to create custom attribution models
Setting up cross-site tracking for clients that leverage multiple websites that might be owned by different vendors, so they can attribute conversions back to the first point of contact no matter how many sites the user touched before converting
Our Decision Science team helps clients solve messy problems – and that extends beyond analytics. We have the ability to offer any data-focused service for your organization – including integrating any of our analytics and data services into your existing processes with the goal of enhancing and growing your workflows. Here are just a few things we've helped clients with: